What You Need to Know About
Childhood Emotional Neglect
Whether you have heard about childhood emotional neglect before or this is your first time hearing the term, you need to learn about it! Many people who had healthy, normal seeming childhoods may have experienced childhood emotional neglect and not even realize it.
Physical neglect is easy to recognize. If your parent or caregiver wasn't feeding you, bathing you, or providing you with necessary medical care, it is easy to identify that as neglect.
Emotional neglect is more difficult to spot. Some researchers believe it is the reason that many adults may feel empty or alone even when they are with loved ones. It can contribute to low self-esteem and other feelings that masquerade as depression.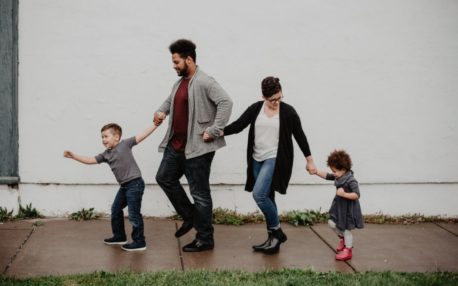 "When a child's emotions are not acknowledged or validated by her parents, she can grow up to be unable to do so for herself. As an adult, she may have little tolerance for intense feelings or for any feelings at all. She might bury them, and tend to blame herself for being angry, sad, nervous, frustrated, or even happy. The natural human experience of simply having feelings becomes a source of secret shame." ― Dr. Jonice Webb, Running on Empty: Overcome Your Childhood Emotional Neglect
What Is Emotional Neglect?
Emotional neglect is failure to respond to a person's emotional needs. Childhood emotional neglect (CEN for short) "occurs when a child's parent or parents fail to respond adequately to their child's emotional needs" according to Healthline.
Emotional neglect can be difficult to identify. Unlike emotional abuse, emotional neglect is what ISN'T done. Those who were emotionally abused as children can look back and see criticism, name calling, overt invalidation, and inability to do anything right in a parent's eyes. Emotional neglect on the other hand can be things like ignoring a child, never having time for their emotional needs, and being indifferent rather than the cruelty of abuse.
People who were emotionally neglected often look back and think they had a "normal, regular" childhood. They can see no reason for their feelings, which only invalidates them further. "I shouldn't feel this way," they say in therapy, "I have no reason to feel like this." I have hard more than a handful of people ask me: "I had a good childhood so why am I like this?"
More About Childhood Emotional Neglect
Unlike abuse, CEN is not usually intentional. While some parents may neglect a child's emotional needs because they do not know how to engage with them emotionally and may be disconnected from their own emotions, situations can cause CEN. If you had a parent who was emotionally absent due to addiction, physical illness, or mental illness like depression, you may experience CEN. Many parents don't actively choose to neglect a child's emotional needs. Because children cannot articulate their needs, they can often become forgotten in situations of illness or crisis. For example, if you have a sibling who is seriously ill and needs more time and attention, it might cause your parents to unintentionally neglect your emotional needs. Unable to say, "I need you to be present with me in this moment" children may seem to be self-sufficient in an effort to be strong for the family. Overwhelmed parents may erroneously assume the other children are fine.
In more extreme cases, parents who have serious personality disorders like Narcissistic Personality Disorder may see children only as extensions of themselves, using them for "narcissistic supply." Most of the time however, CEN happens unintentionally.
Signs of Childhood Emotional Neglect

You would rather do everything yourself because you have difficulty trusting other people will follow through. You have difficulty accepting help and emotional support.
It's difficult for you to figure out what you want to do with your life, your goals, and you have trouble defining a "dream" job or life. You might also have trouble identifying what you like and dislike.
Self-compassion is something you may give to others but rarely if ever to yourself. You are much harder on yourself than you are on others.
You tend to blame yourself for most things that go wrong. You feel most comfortable directing anger inwardly toward yourself rather than outwardly toward others.
You feel shame or guilt over having needs. Expressing your feelings and needs to others, even those you are close to feels impossible.
Most often you feel empty, numb, or disconnected from your emotions.
You consider yourself a perfectionist. You will often give up quickly rather than do a less than perfect job on something.
Your self-esteem is low.
Rejection seems to effect you more deeply than other people.
You believe there's something wrong with you even though you cannot name what it is. You may feel "deeply flawed."(Signs adapted from Psychology Today)
"You didn't grow up in a household that had enough of these [emotional] skills, so you missed the Emotional Training Course that you were supposed to receive in childhood. It's important to stop questioning and blaming yourself, and turn your attention forward. It is not too late for you. And we are going to learn them." ― Jonice Webb, Running on Empty No More: Transform Your Relationships With Your Partner, Your Parents and Your Children
Childhood Emotional Neglect is a
Relatively New Term
You may never have heard of CEN before because it is a relatively new term. Dr. Jonice Webb, 2015 coined it in her book "Running on Empty." She noticed that in her twenty years of practice there was "an invisible factor" as she describes it. A weight, stemming from childhood that caused people to feel empty, lost, and alone. She has since written several books on the subject and also has a blog at PsychCentral. The blog is where I first became educated on CEN. On her website she also has a referral list for therapists who have taken her training courses and a questionnaire to help you determine whether or not you experienced CEN.
"It's hard to see that what's NOT THERE can be more important than what IS there. She [my client] had no idea that between her absent father and preoccupied mother, no one had taken the time and energy to actually parent her."
―
What To Do If You Think You Have CEN
If you think that you may have experienced childhood emotional neglect that is impacting your life as an adult, you should find a therapist or counselor in your area. You can also read Dr. Webb's book, Running on Empty, if you want to learn more about CEN. Like many skill deficits, cognitive behavioral therapy and dialectical behavioral therapy can help you learn ways to make your daily life better. It is worth reaching out to a therapist to see how you can learn to overcome CEN!
Stacey Aldridge, LCSW
Stacey is a therapist in private practice and the owner of Inspired Happiness Therapy and Wellness in Ridgeland, MS. If you are in the state of Mississippi and are interested in seeing Stacey for therapy, please visit the
page.
Like this post? Use the buttons below to share it on social media so other people can find it!